Calling all female entrepreneurs and small business owners
Brand You is a one-stop destination for female business owners around the world to come together and create unlimited success in their businesses and their life. We promote a world where creative women are empowered to come out of the shadows and be fearless in their pursuit of creating a successful business and brand. Be inspired by women who have boldly designed the business and lifestyle they always craved… Are you ready to do the same?
– THE BRAND YOU EXPERIENCE –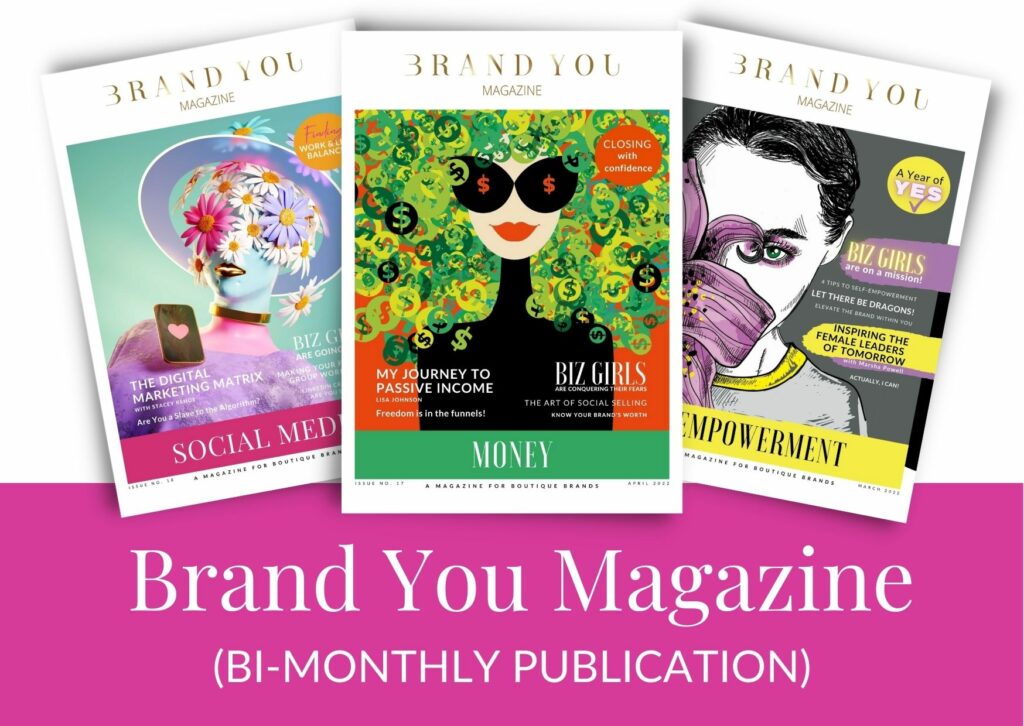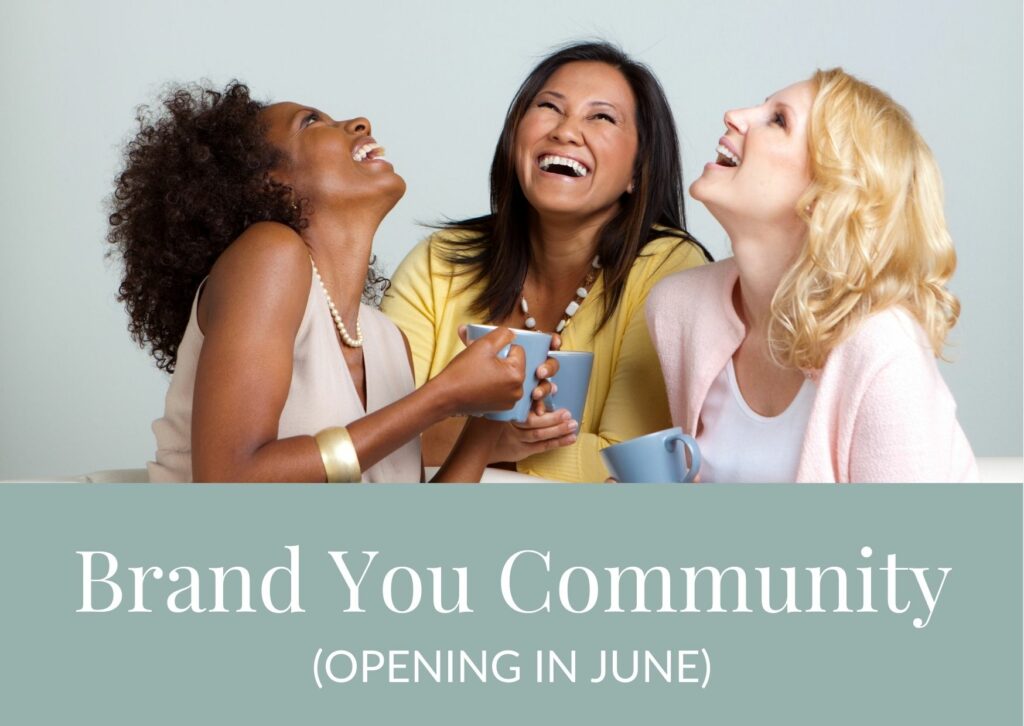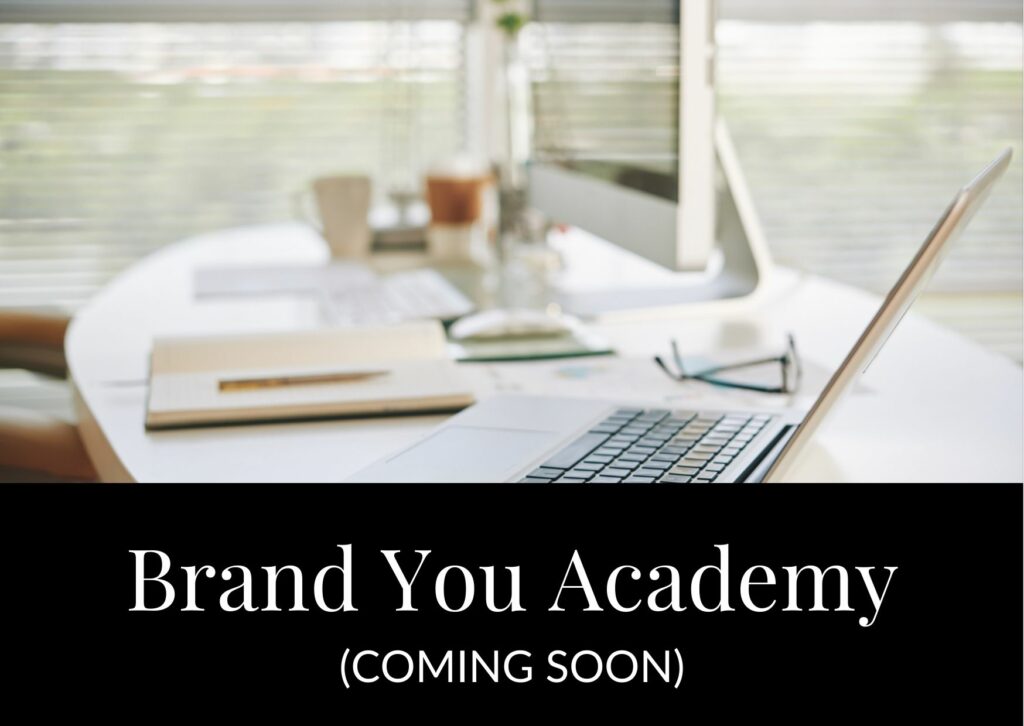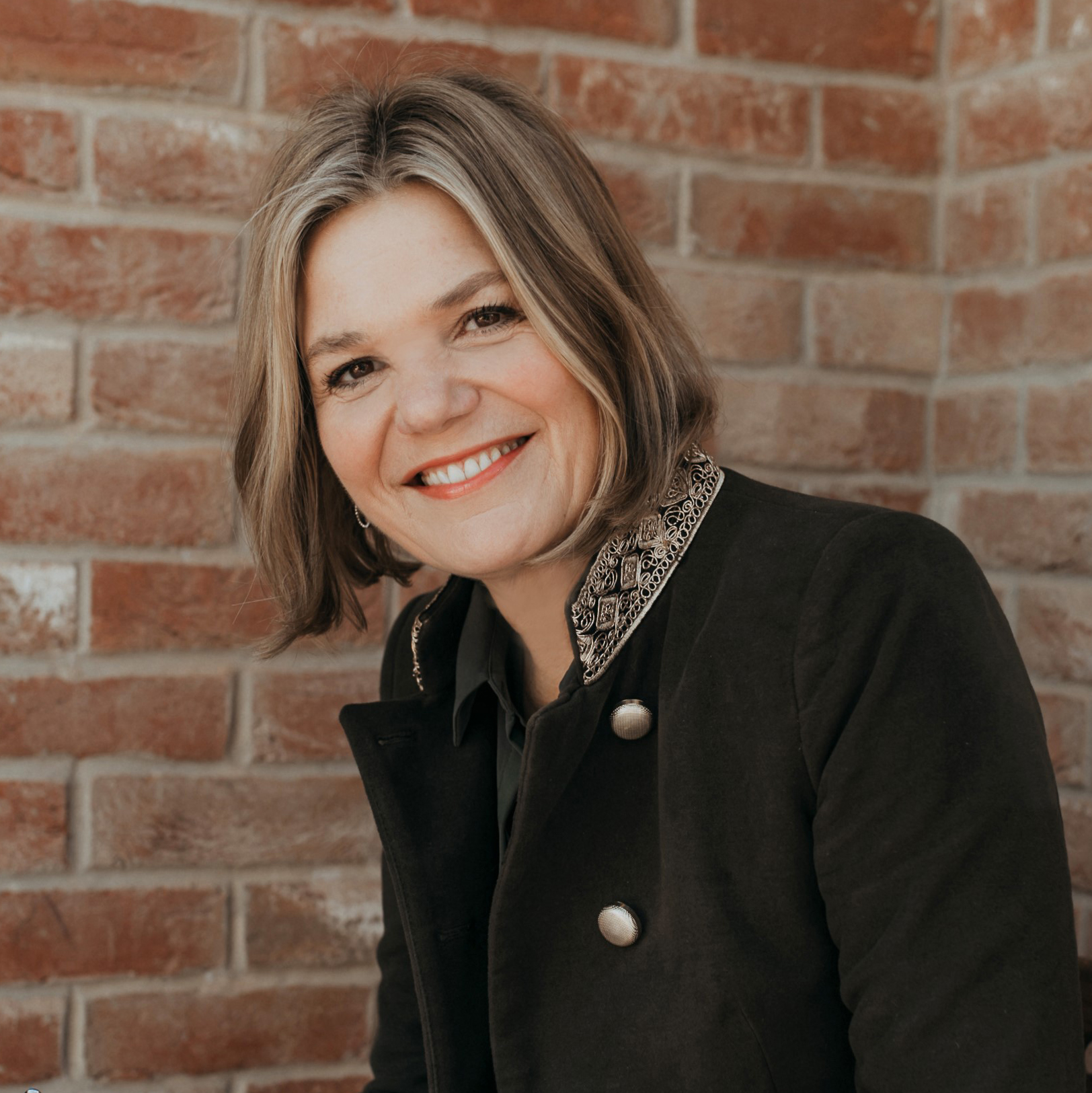 Brand You magazine is refreshing, it is unlike any other business magazine out there. A celebration of women and business - it's a great read, artfully created and thoughtfully edited - well done.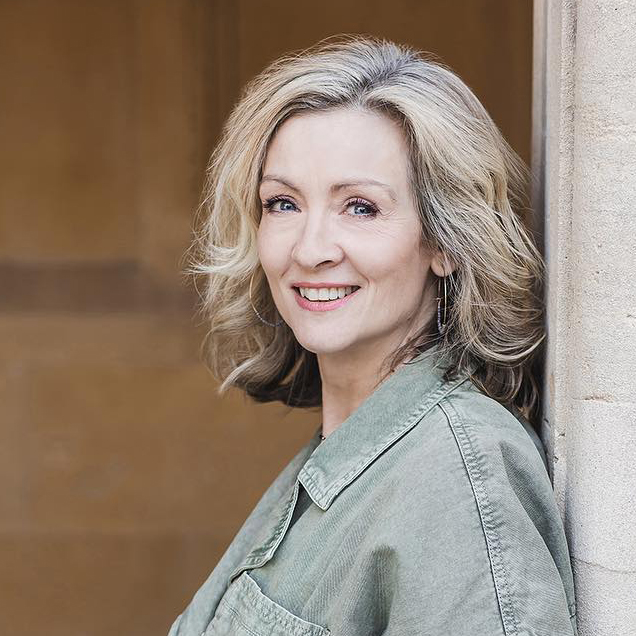 All the articles are really inspiring and honest, I love that Brand You covers a range of different business areas and industries, with tonnes of insightful tips and advice too!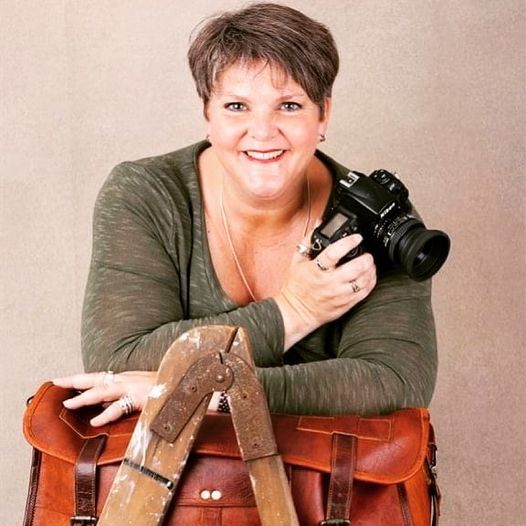 Brand You is turning into a fantastic resource for my business! It's relevant, engaging and a bible for how to show off my brand in the right way!

You just found your tribe, your vibe and your guide!
Here you can grow with passionate and creative women just like you. We share the journeys of businesswomen and entrepreneurs from all over the world, and in all kinds of business. 
Be inspired by their stories as you build your business and lifestyle around all those incredible ideas that keep you awake at night (yeah, we get it too!).
Make your goals come into sharper focus. 
But Brand You Magazine doesn't just inspire you. You get actionable, practical guidance on all areas of growing a business and brand that reflects who you are, inside and out. 
– ANNOUNCING THE NEXT ISSUE –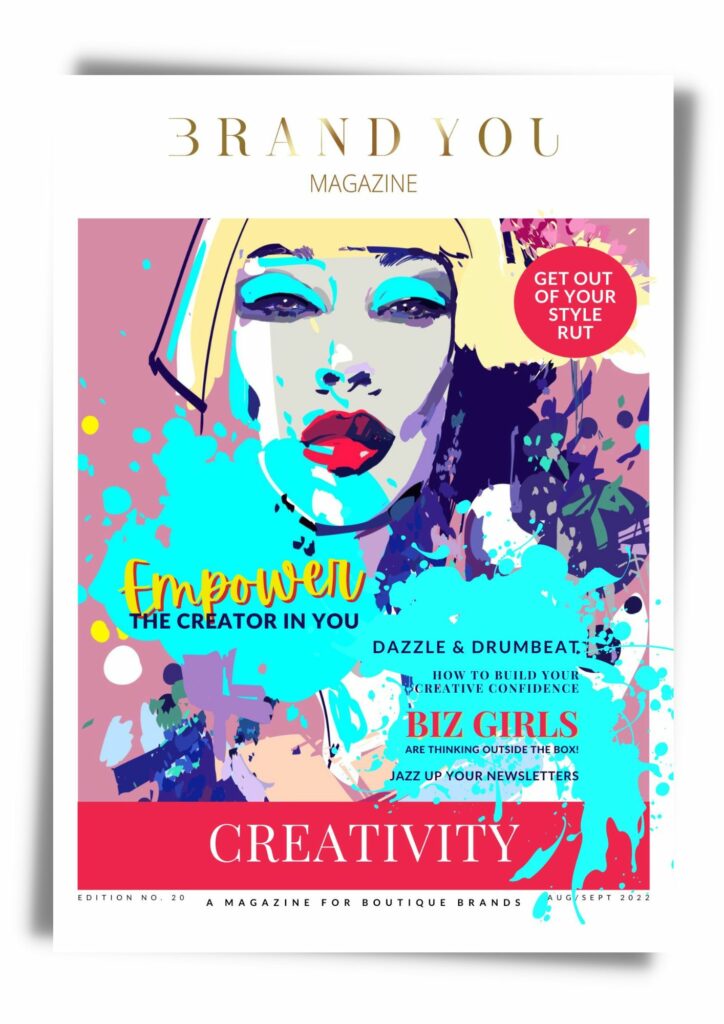 Edition 20 – Creativity
Issue August/September
Out in August
Generally, we refer to non-artistic professional creativity as the ability to think outside the box by changing perspective, coming up with new ways to do things and finding unique and innovative solutions to solve problems. It's a combination of using imagination, reason, and accumulated experience, which often fuel each other. It's about being able to say, "I have an idea," and then implementing it. I was surprised when doing some online research recently to discover how few people working in business actually believe they are creative or feel like they are fulfilling their creative potential.
Many tend to think creativity is binary: Either you have it, or you don't. But in reality, creativity is both a skill and a process. It's something we can all learn. And like any other skill, it's something we can get better at through practice and repeated use.
In fact, you're probably already using creativity to make decisions and solve problems on a daily basis and for those of you who may still need a little help to find the creative sides of yourself and don't want to just sit back and watch the special people have all the fun, then let your minds stumble along new paths taken by our intrepid contributors and discover how they immerse themselves in imagination and creative thought, yet remain grounded enough to turn their daydreams into reality.
FEATURING
Have a few tricks up your sleeve by Jessica Knowles // Dazzle & drumbeat by Sally Inkster // With passion and purpose by Karen Staniland-Platt// How to spark your creativity – Canva Corner by Marie-Louise O'Neill // Brand You Insider by Emma Downey // Creating a powerful brand by Kayleigh Lloyd // Love letter…from your biz to you by Rebecca Mackay Miller //  Biz Girls are thinking outside the box with Skevi Constantinou and Nicki Capewell //  True path to creative freedom by Emma Boardman // What's up with Suze by Lucy Dowson // Being an artist entrepreneur by Bonny Snowdon // Jazz up your newsletters by Carmela Rosato //Wanna get that mojo working? by Lara Doherty // How to build your creative confidence by Ali Mapletoft // Beyond Business by Dawn Beth Baxter // The magic of improv by Suzi Payton // Empower the creator in you by Beejal Coulson// Could you fall in love with volatility? by Lisa Conway-Hughes //Get out of your style rut by Stefania Bartolomei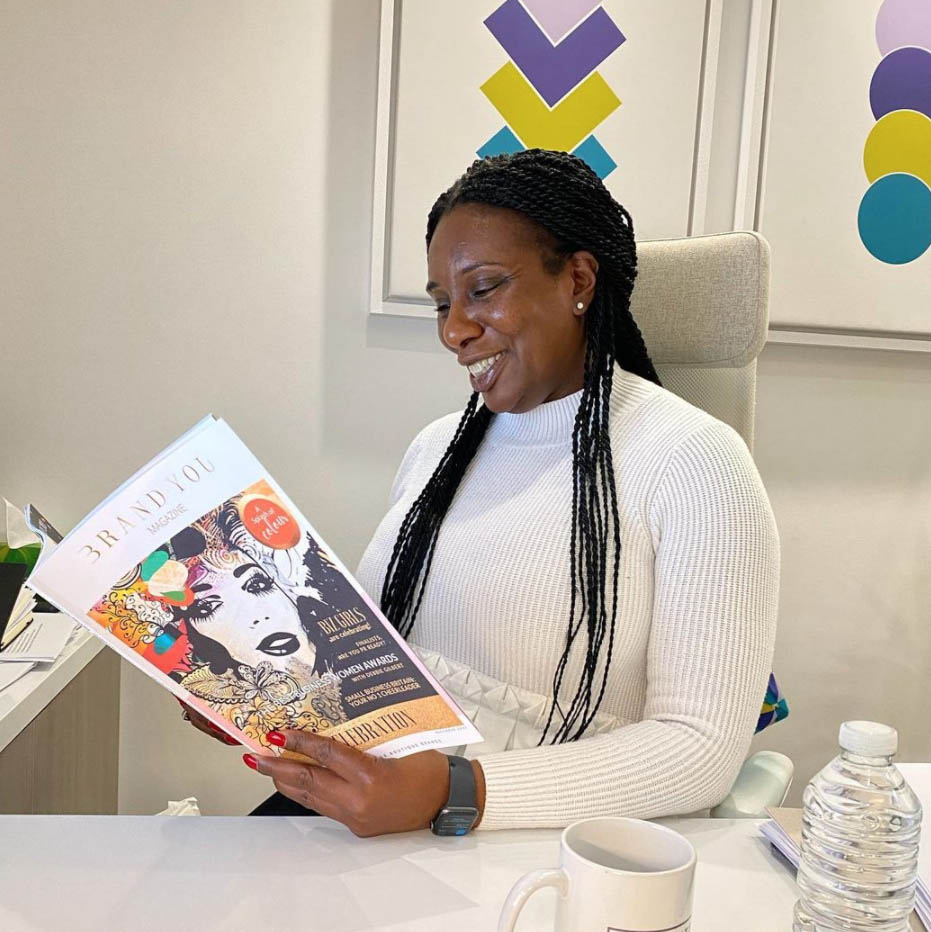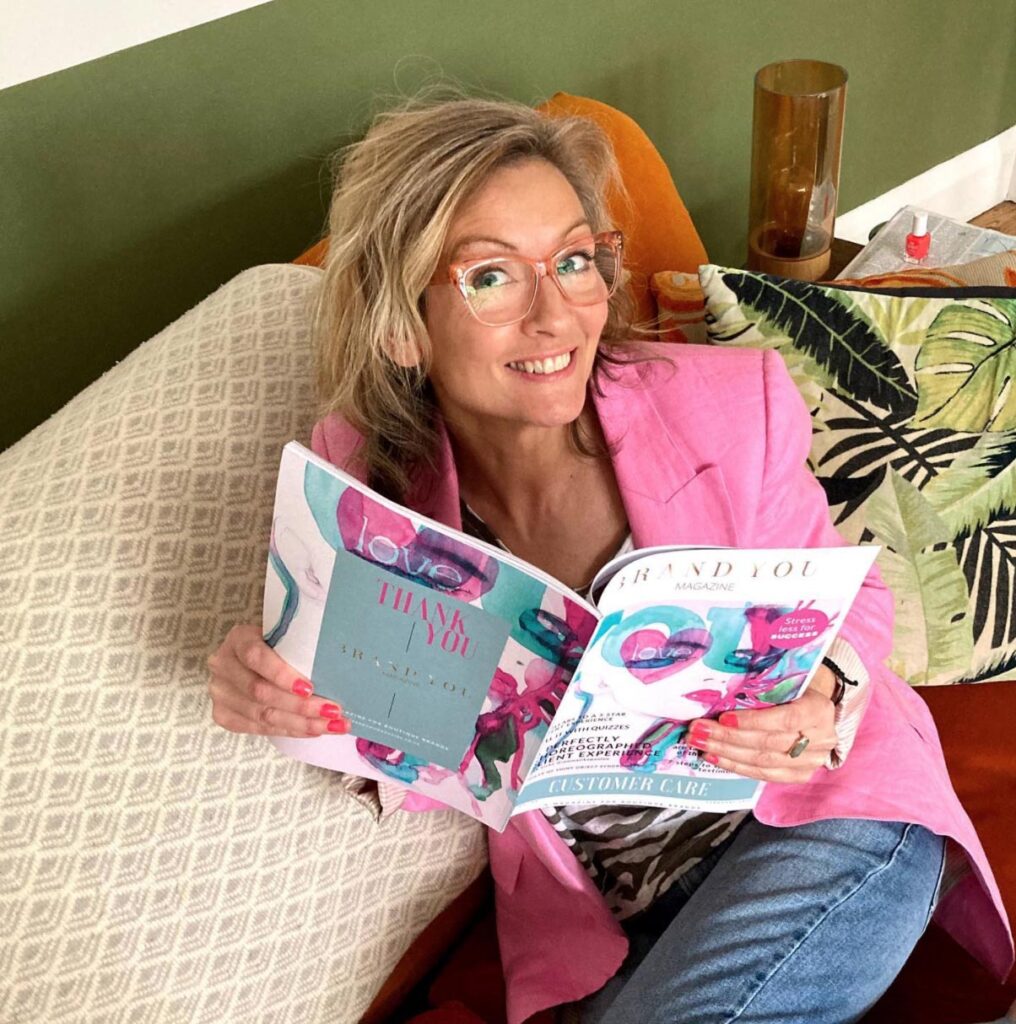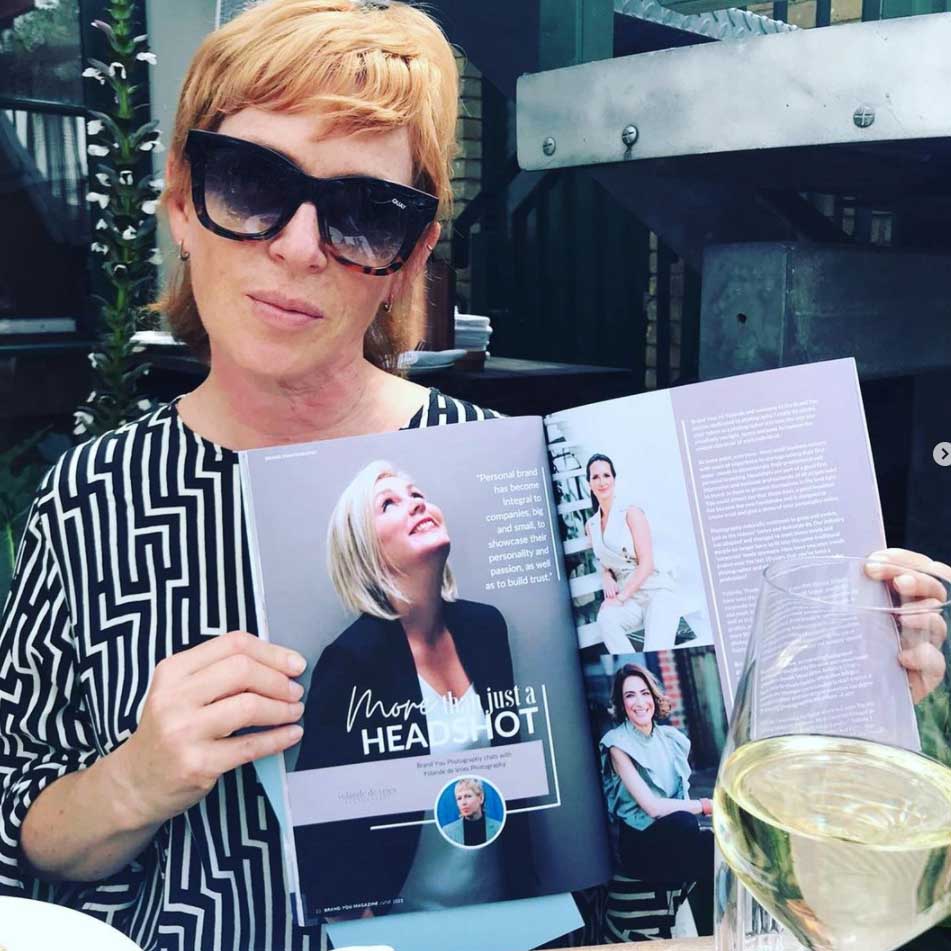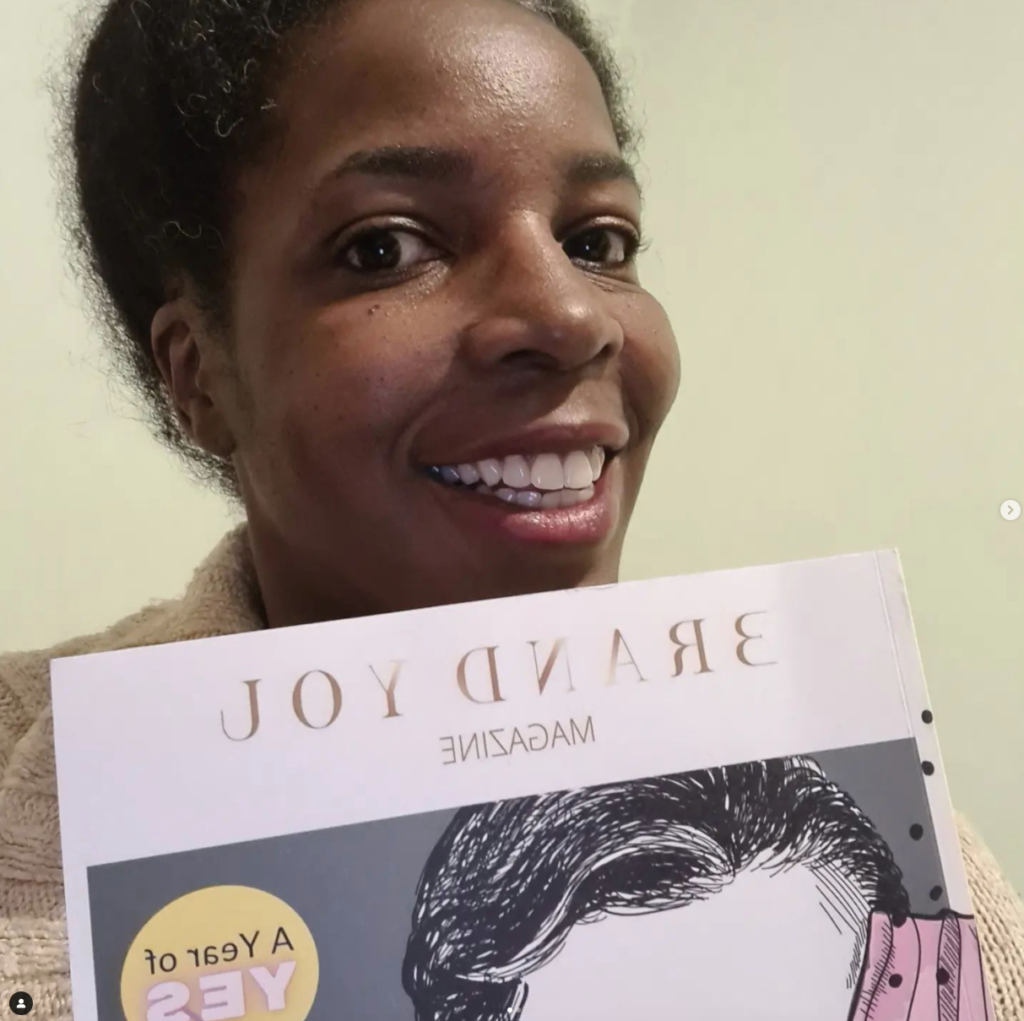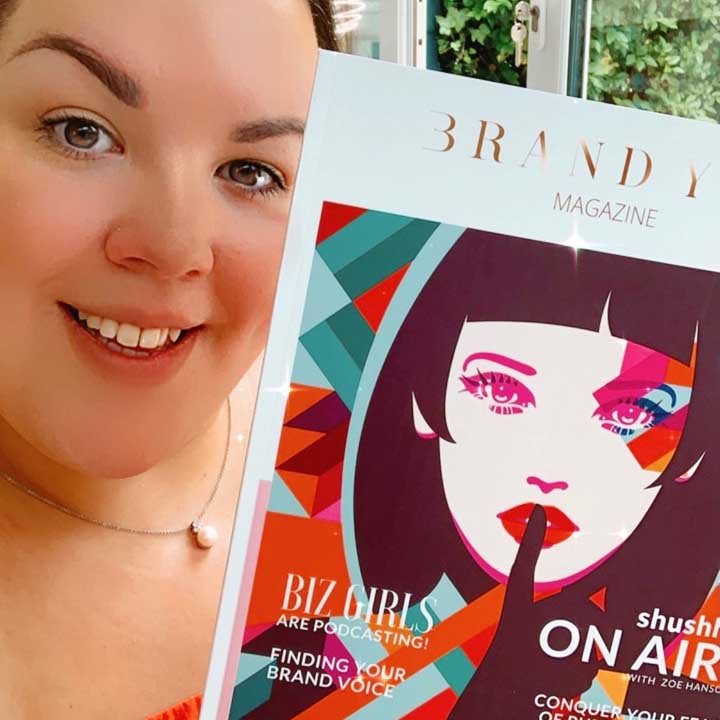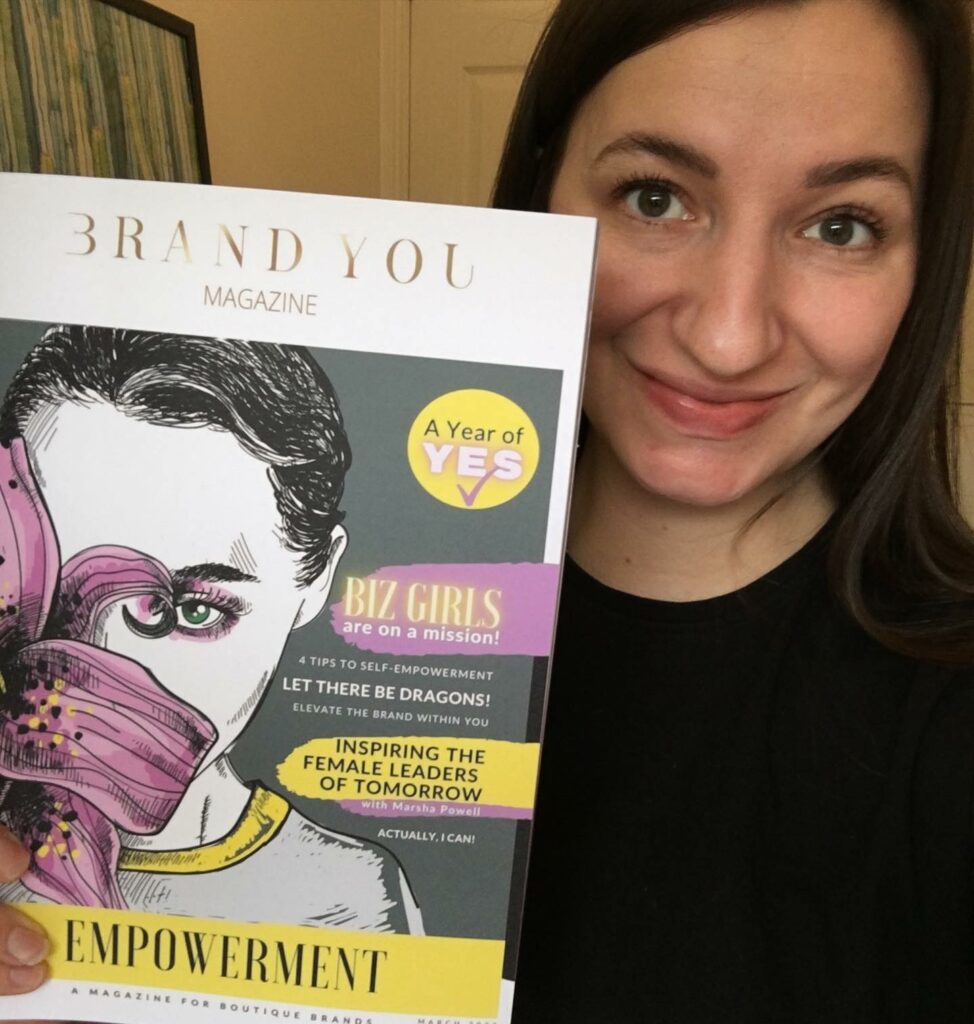 Want to be to kept up to date with the launch?
Sign up to our newsletter and join our community today! With each newsletter, we'll announce the new magazine edition and its amazing contributors.  We'll highlight our readers, new guest blog posts, share upcoming events, news, competitions and special offers from Brand You…and much more!
You'll be all "hold everything, the Brand You Newsletter has arrived!" 
– Over On Our Blog –
Strong women empower strong women. Get tools you need to rapidly level up your brand, business and lifestyle.
Fast actionable tips, inspiration from some of our best contributors, and all the most important news from both the Brand You Team and the world of business are waiting for you over on our blog. Go on, grab a cuppa, have a read and get inspired!
Submit a Guest Blog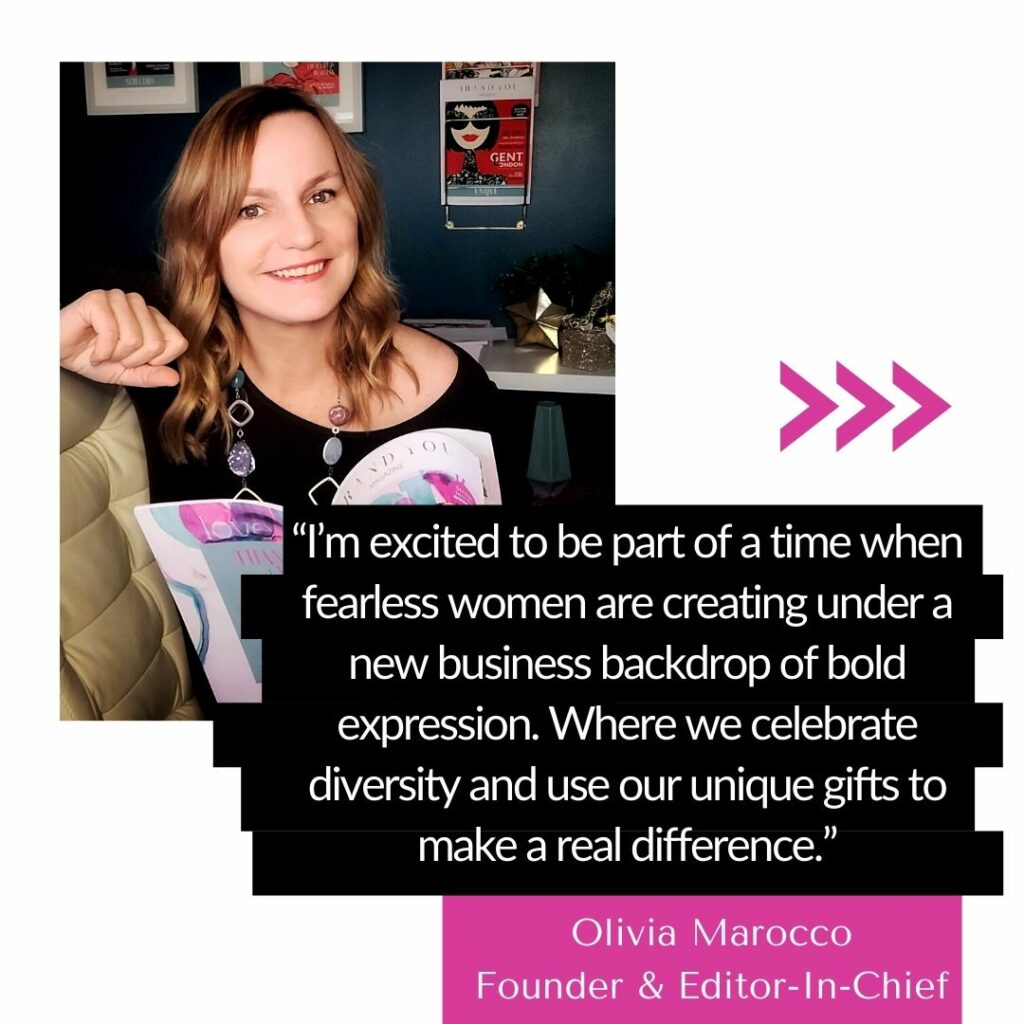 The Best Business Woman Awards 2022
Brand You Magazine is delighted to be involved in the Best Business Women Awards 2022 sponsoring the Marketing & PR category.  It is part of the magazine's ethos to promote the rise of female entrepreneurs in the UK and to support the achievements of so many talented businesswomen who are making a mark in the business world.
Our founder, Olivia, will also be part of the judging panel this year. To find out more about the awards and the categories, click here! 
Entries close 8th June 2002 – 5pm.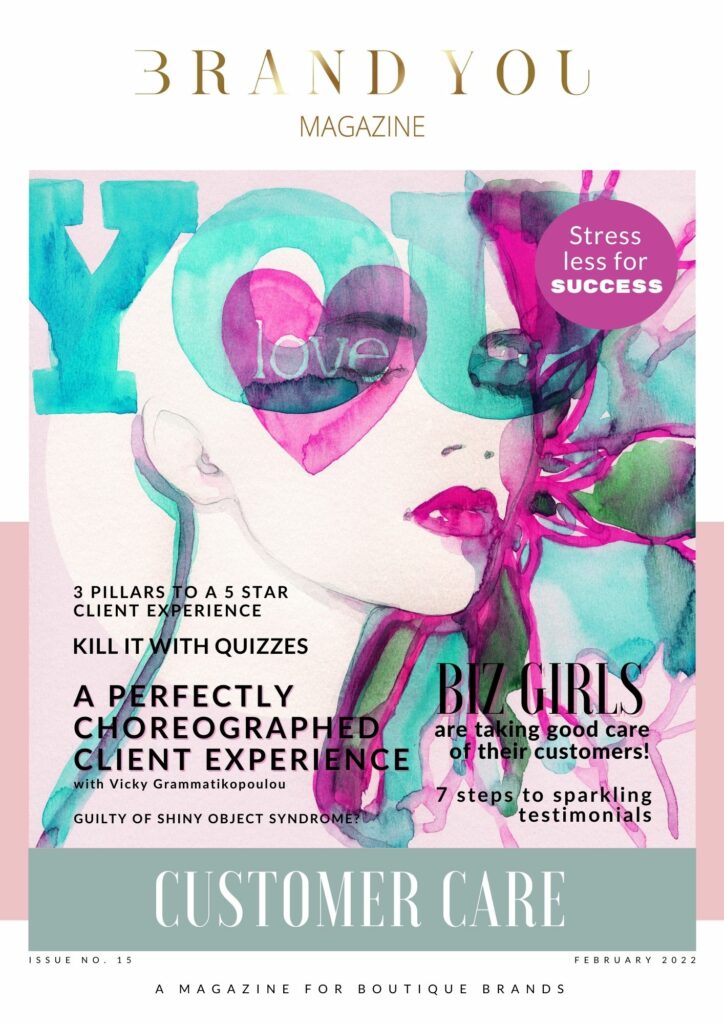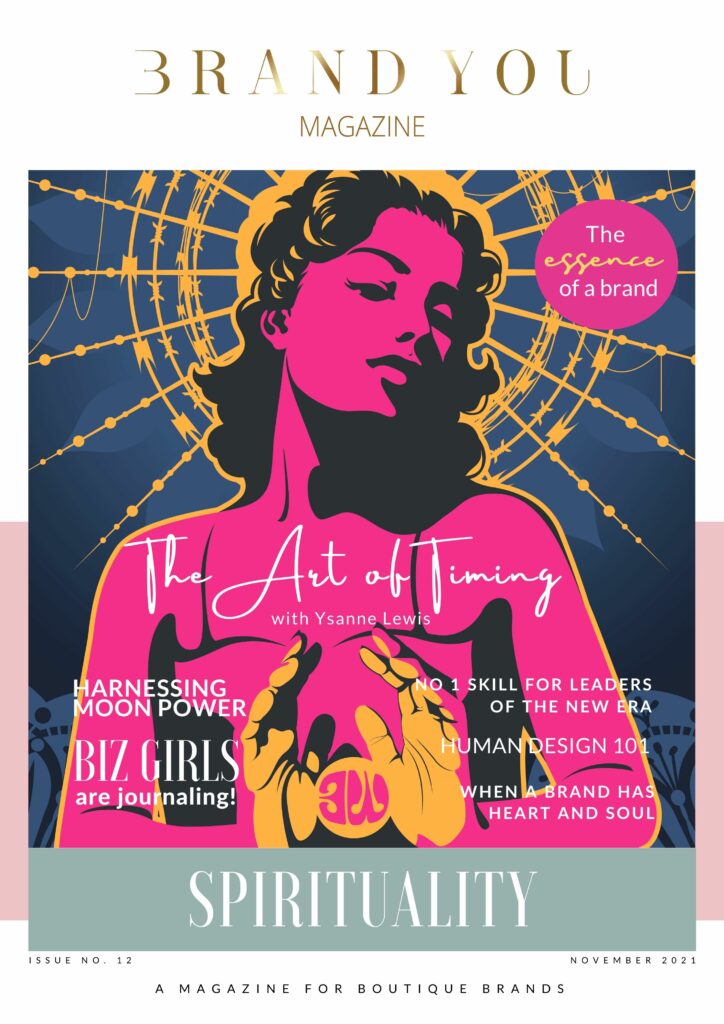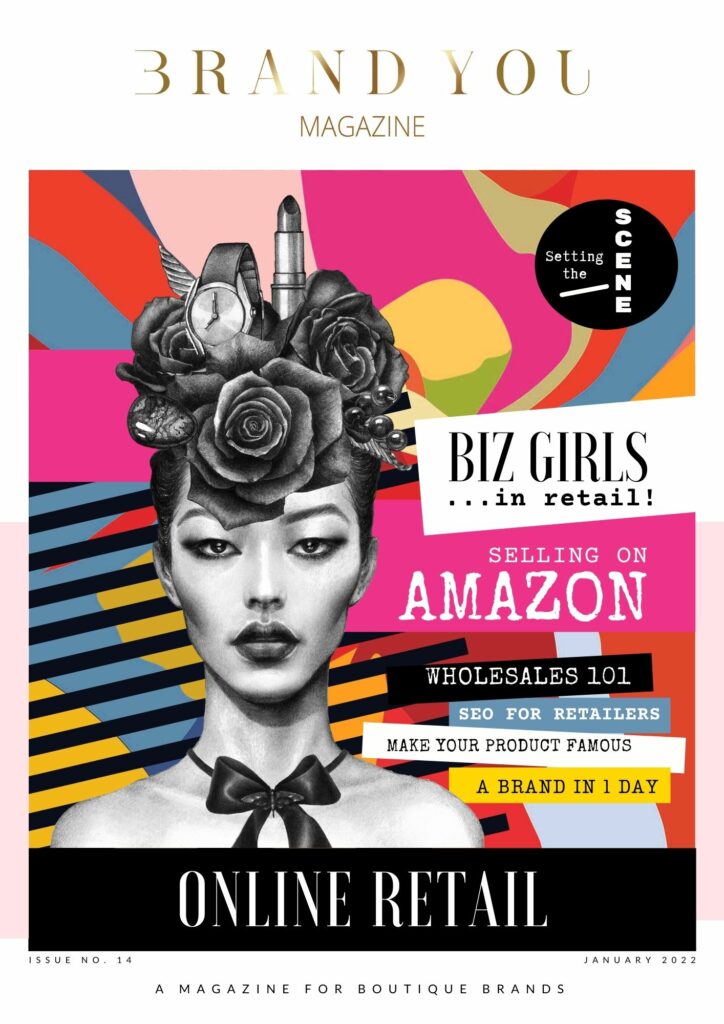 Visit our online boutique and shop for individual issues (Print & Digital)
– WITH SPECIAL THANKS TO OUR BRAND AMBASSADORS –