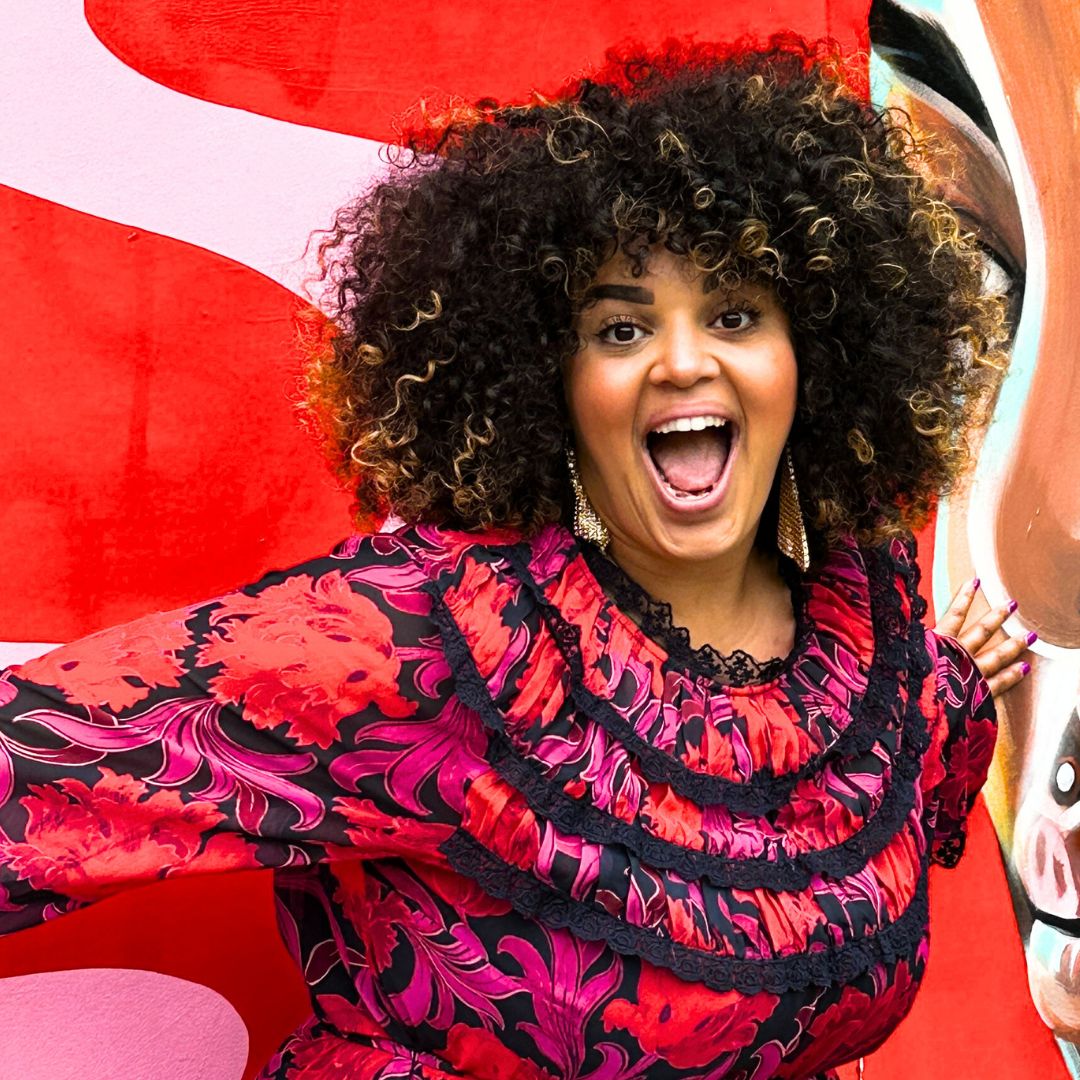 Failure Was Never An Option – Interview with Laura Bartlett
Laura's spirit for adventure, passion for people and pursuit of the party blazes through House of Coco, a luxury print travel magazine sold worldwide. It's the home of wanderlust for the nomadic adventure seeker and those who desire connections, not just from destinations, but from culture, fashion, beauty and lifestyle. The award-winning founding editor and publisher chats about how she overcame setbacks and failures – from being ridiculed by Peter Jones on Dragons' Den at the age of 25, to becoming in demand from brands all over the world and living her dream life.
I saw a massive gap in the market for northern magazines. The obvious route was to create my own.
From a very young age, I wanted to make sure that I lived my life by design and not by default so I've been really intentional about making sure the business I created would give me the lifestyle that I wanted. When I tell people the details, how I am travelling all the time, receiving invitations daily to incredible new hotel openings, parties and adventures, most people tell me it sounds like I am living the dream. It's true, I am! Nine years ago, when I was bankrupt, with this wild idea for House of Coco magazine, I always knew it would be something amazing but even I am still blown away at just how unique and special my life has been because of it. I'm forever grateful.
When I was 15, I firmly believed I knew everything there was to know. Looking back, I can now laugh at my teenage arrogance. However, what did turn out to be a true revelation was the unwavering conviction that I would one day start my own company. I placed my trust in the universe to guide me towards the right path, unsure of what exactly that would entail. Over the years, I've humbled myself and learned to rein in my ego.
I got a job in radio and fell head over heels with the captivating world of media, and yearned to be part of an industry where I could create something meaningful and impactful. So I ventured into the realm of local magazine work. My boss at the time was, to put it lightly, highly inappropriate. However, in a strange way, he inadvertently taught me a valuable lesson: if he could succeed in this industry, then so could I. It was a pivotal moment that fuelled my determination to forge my own path. And as they say, the rest is history.
A little-known secret. My first company was created when I was 21. Selling handbags! Aptly named 'Handbag Heaven', I dabbled in the world of retail. First buying wholesale handbags, selling them online and eventually having my own store in Birmingham. I quickly realised that retail wasn't for me and luckily, I had simultaneously been inspired to get into the world of publishing as I saw a massive gap in the market for northern magazines. The obvious route was to create my own and to pivot into that full time.

"Peter Jones told me to quit, that it would never work and basically asked who the hell I thought I was for trying to compete with one of his existing publishing investments."
Urban Coco started as a fashion magazine for the Leeds area, with copies distributed citywide every month. I taught myself everything I needed to know, from writing articles, shooting editorials, working with influencers, creating content and distribution. I created so much hype that Harvey Nichols in Leeds wanted to host the launch. We had 80 guests and 300 people queuing to get their hands on the first copy. It was so fun! I was young, enjoyed all the PR freebies and loved shining the spotlight on independent fashion designers. But this company also taught me a lot about what NOT to do!

I went on Dragons' Den to ask for investment for Urban Coco magazine to launch it worldwide. I'd spent months with the producers telling me that I was amazing and went in there feeling a little smug. Naively, I wasn't prepared at all for any negative feedback, thinking it was all in the bag as they'd convinced me that I was going to get the investment! So, when I received push back, I just wasn't prepared for it. Peter Jones told me to quit, that it would never work and basically asked who the hell I thought I was for trying to compete with one of his existing publishing investments. It was BRUTAL! After filming, they literally rush you out of the back door into a taxi. I then had to wait to receive a call from the producers to hear whether or not my episode would be aired. I found out that it would, and that left me with six months to get my head down, work really hard and prove them wrong.
"Even when the outside world might deem that I have failed, I've never seen it that way. I am a winner."
Honestly, I was gutted that day. But I'm not someone who dwells on the negative and saw this as an opportunity to turn my mess into a message. I started working with a distribution company, doubled down on selling advertising space, hired a creative director from Australia to help to take the magazine content and design to the next level and the first international edition launched the same weekend that my episode aired. It sold out worldwide. I was literally on cloud nine! The feedback from the show was overwhelming: I was verified on Twitter (which was a big deal back then – until Elon Musk just removed it, ha!), I received thousands of emails of support, opportunities to speak and to be honest, nine years later, I still dine out on the story now. It was such a great feeling knowing that I had gone on to prove them wrong. Sadly, the hype didn't last too long!
You can imagine how excited I was when Urban Coco was invited as a media partner for The Clothes Show, alongside Elle and Cosmopolitan – especially when they told me to expect to make £500,000 easily from the footfall and demographic. I put all of my eggs in one basket and made a grand total of just £5! It was the era of TOWIE and young guests in attendance were far more interested in a selfie with Amy Childs than buying a fashion magazine. I remember having to use all the money I had left to buy fuel to get home. Yes, my company had failed but I'd tried and would survive. I was going home to a loving home with my family who had my back. Even when the outside world might deem that I have failed, I've never seen it that way. I am a winner.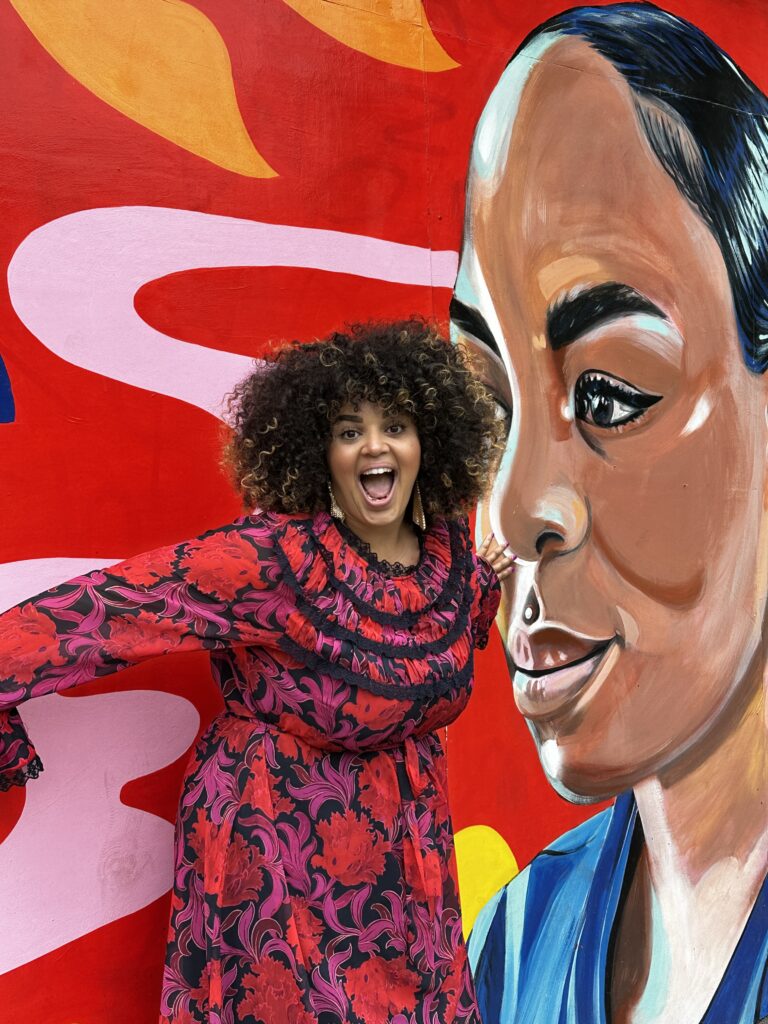 My parents instilled in me the belief that I am just as deserving as anyone else and raised me to be a strong, independent woman, with happiness being the ultimate goal in life. That's how I manage to pick myself up, dust myself off and bounce back easily after setbacks. Knowing I wasn't starting from scratch, but rather from a place of experience, I put my verified Twitter account to good use and began reaching out to brands and selling tweets for £50.
What's my biggest takeaway from that whole experience? That a setback is just an opportunity for a comeback. Watch this space! I used to live near a shop called Coco Loco. It was a gorgeous, little boutique and each month, I would treat myself to something, like an accessory or new handbag. I just loved the entire experience, from the packaging to the ambience of the shop. I always said, when I have my own company, I will call it Coco something. So when Urban Coco was no more, I kept the Coco and upgraded it.

"The key to our success has been building a brand consistently and enduringly, so that distributors recognise our commitment and dedication."
House of Coco started to rise from the ashes. I was in my mid twenties at this point, bankrupt and with a failed company under my belt. I met my friend, Penny, in a coffee shop – she had to buy my coffee. She brought along her graphic designer friend, Gillian, and I told them about my idea to start a new magazine focused on travel. Penny came up with the brilliant #TeamCoco hashtag, and I explained that our team would explore the world, living their best lives, to create captivating content that inspires others to step outside their comfort zones and explore the wonders of our vast and beautiful planet. Nine years later, that's precisely what we've done. Penny has seen the entire world, most recently on a trip to Canada so I think I can fairly say I have paid her back for that coffee! Gillian is still our graphic designer.
I believe there is a common misconception that success should come quickly and easily. However, our journey has been one of perseverance. For nine years, we have tirelessly published and distributed our magazine. It's worth noting that many publishers do not make it past their third year. Our magazine can now be found nationwide in esteemed locations such as WHSmith, Harrods, Selfridges, tube stations and airports. Additionally, we have partnered with Readly, granting access to millions of subscribers digitally. Our publication has just launched digitally in prestigious venues like The Ritz and on Richard Branson's Necker Island. The key to our success has been building a brand consistently and enduringly, so that distributors recognise our commitment and dedication. Over the years, I've witnessed countless magazines cease operation, a testament to the challenges faced in this industry.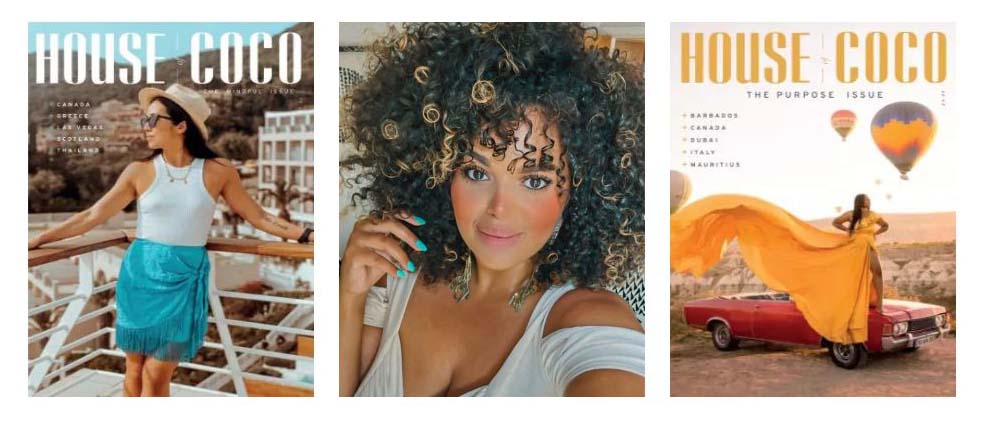 "I've never been afraid to share my story, my truth and life with the world."
Luxury travel, lifestyle, fashion, and adventure—these are the pillars that define our magazine. Our team consists of 30 talented writers and content creators hailing from different corners of the globe. Each member brings their unique area of expertise to the table, yet it all harmoniously revolves around the essence of travel. Our magazine offers a tapestry of captivating narratives and insights that cater to a wide range of interests and passions. Whether you're seeking opulent luxury, immersive cultural experiences or thrilling outdoor adventures, we have it all covered. Through our dedicated team, we strive to inspire and guide our readers on their own extraordinary journeys of discovery.
For example, take Anji, our dedicated wellness editor. With a discerning eye, she scours the world for the finest wellbeing escapes, exceptional products and renowned brands. Then we have Hannah and her loyal four-legged companion, Charlie, also known as @teamcocopup. Together, they embark on thrilling journeys to discover the most dog-friendly destinations across the globe.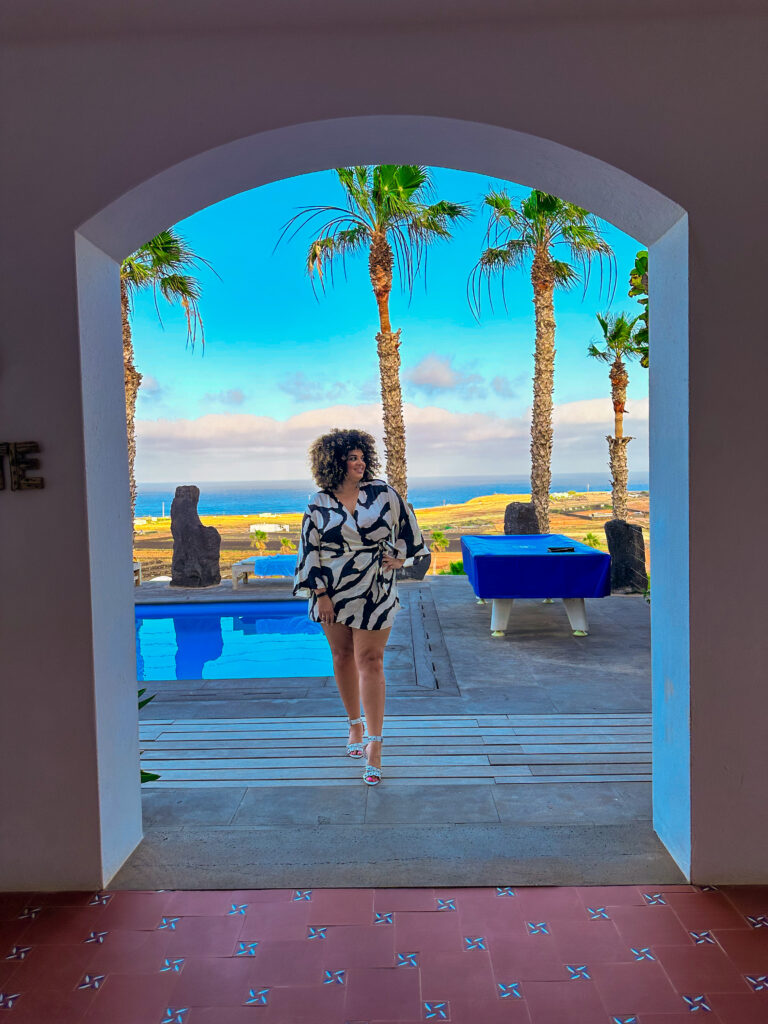 "

Travel may be in my DNA

, but home is very proudly Leeds."
I never intentionally built such a strong personal brand. In fact, there was no such thing when I started out 12 years ago. But I've never been afraid to share my story, my truth and life with the world, whilst building (and rebuilding) my businesses, in the hope that someone will see them and say, "I really needed to hear that today." I've also been fortunate to attract a lot of opportunities from my personal brand because people find me online or my reputation offline has meant that I'm often put forward for things. I've worked with Channel 4, The BBC and presenting for Coca Cola. I've landed six-figure deals for my personal brand. Now it's more of a buzz word and everyone wants one, but the secret is to build a business first!
Travel may be in my DNA, but home is very proudly Leeds. I love this city! This summer I'm staying in the UK. I have a few trips to London, adventures with my family in the Lake District and then from next month, I will be back to my usual adventures. Austria, New York, Los Angeles and anywhere else that tickles my fancy! I just wake up each day and decide how I want to spend it …so anything can happen! My favourite place in the world is Switzerland so I'm heading back for the ninth time later this year too. Most people go to therapy, I go to Switzerland.
Wherever you decide to spend your summer holiday, have a wonderful time, filled with fun and sunshine
---
Article published in Brand You Magazine – Edition 26
Interview by Olivia Marocco – Editor-in-Chief of Brand You Magazine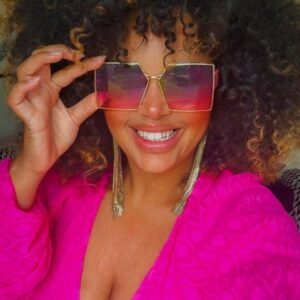 Laura Bartlett – founder of House of Coco Magazine
Laura is a leading voice for young female entrepreneurs and the award-winning founding editor and publisher of House of Coco, a magazine for millennials which is sold all over the world, as well as in-store at Harrods and Selfridges.
LinkedIn: Laura Bartlett
Instagram:  house_of_coco
Website: houseofcoco.net
---