Brand You Magazine is your ultimate monthly gorgeous guide to female entrepreneur success as a boutique brand or small business.
We get it. As women we're busy. Our responsibilities stretch us to our very limits, physically, mentally and emotionally. But it's time to stop making excuses and letting the daily grind win. Brand You magazine presents the ideas of a growing collective of exceptional global professionals who teach you how to have your cake AND eat it. Whether your business is still just a twinkle in your eye or a fully fledged company.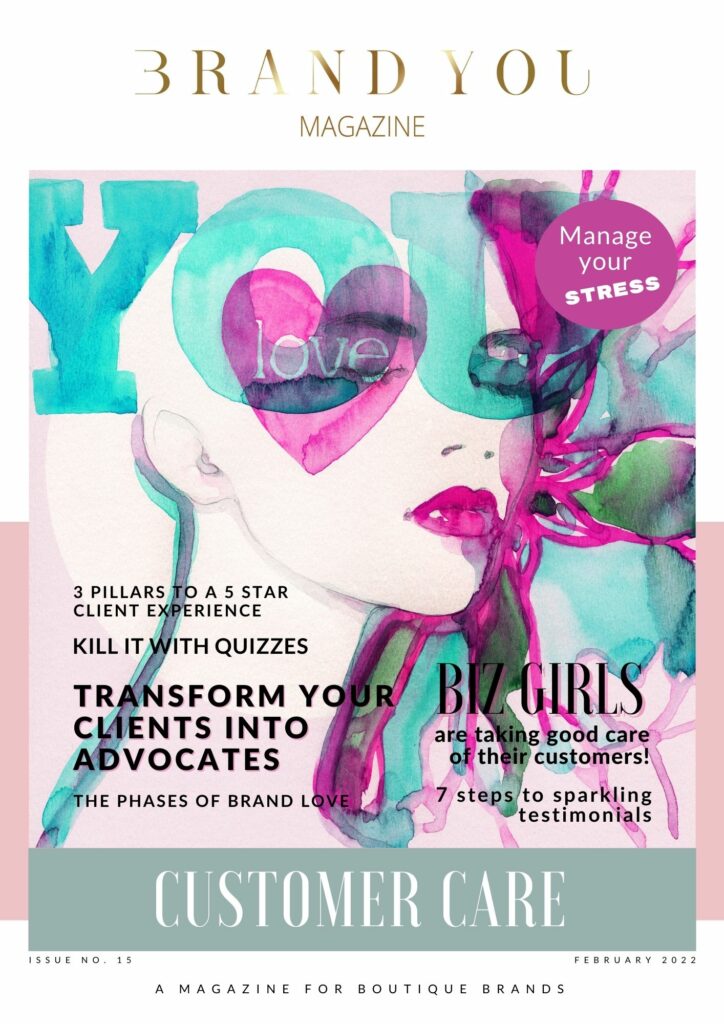 You are in for a treat this month!
Issue 15 – February 2022
BRAND
The phases of brand love by Tam Goldsmith.
A brand design with nature at its heart by Nicola Stewart.
A mindful story through the eyes of  Marili Vosmi.
The Brand You Insider by Emma Downey.
BUSINESS
The perfect choreographed experience for my clients with Vicky Grammatikopoulou.
Kill it with quizzes by Heather Carr.
7 steps to sparkling testimonials by Shehnaaz Latif.
Transform your clients into advocates by Remeny Armitage.
Creating powerful reputations by Fiona Johnson.
The 3 pillars to a 5-star client experience by Jenni Schanschieff.
BIZ GIRLS… are taking good care of their clients.
LIFESTYLE
How to nurture relationships online and offline by Marina Gask.
How to manage your stress by Saira Hasan.

Subscribe before January 20th to get your first issue in early February and
enjoy unlimited access to everything BRAND YOU.
** Subscriptions made past January 20th will receive the March issue. **
Monthly Digital

£5

Rolling monthly digital subscription. Cancel anytime.

UK & WORLDWIDE 
Monthly Print + Digital

£11

Rolling monthly subscription for print version and digital. Cancel anytime.

UK SHIPPING ONLY
The magazine is delivered conveniently 'hot off the press' to your inbox or direct to your door each month.
Just put the kettle on and we'll do the rest!
*
Easy management of your subscription via our self-service website.
It's an absolute breeze!
*
Unlimited access to all digital back issues.
There's so much knowledge combined in all past issues for you to enjoy!
*
The magazine is printed on the best environmentally certified and recycled paper from sustainable sources and using superior quality, vegetable-based inks.
We'll also be using fully recyclable, plastic-free packaging.
Because we care about our future, the planet and all its inhabitants!

Brand You Magazine is here to help you get get your business and life on track.
From practical tips and advice on how to create an extraordinary brand and business, inspiration
from incredible women all over the world who have been in your shoes, m

ethods to help you

create, grow and manage your perfect business to s

tories of other women just like you, so you can

learn from their mistakes and mirror their success.
All wrapped up in a

fabulous, gorgeous monthly magazine! What more could you need?
Create a Brilliant Brand
Be Bold in Business
Lead a Healthy Lifestyle
Plus All The Extras...
CREATE A BRILLIANT BRAND

Get exclusive access to brand experts who share their secrets in creating a standout brand.

Find out why a strong brand gives you the edge over your competitors.

Get a clear direction on your brand strategy.

Create a winning brand identity which perfectly communicates your key messages.

Be inspired by our readers who have built strong and recognisable brands.

Get clear on your ideal client profile.

And so much more!

BE BOLD IN BUSINESS

Be encouraged, educated, and mentored by local, national and international thought leaders in the world of business.

Marketing

PR & Advertising

Business Planning

Finance

Web Design

Social Media

Digital Marketing

Law

Networking

Everything else you and your business need to succeed.

LEAD A HEALTHY LIFESTYLE

We know there's a fine line between business and pleasure. We also know the toll that being in business can take on your wellbeing. But, done right, your business can facilitate a lifestyle which is not only abundantly healthy but also creates an environment where you feel truly able to grow.

Wellness

Mindset

Stress Management

Yoga

Exercise

Meditation

Nutrition

And more!

PLUS ALL THE EXTRAS!

BIZ GIRLS

Find out what women like you are doing right now to grow their brand.

PODCASTS & BOOKS

Recommendations that will max out your motivation and creativity.

TIPS & TRICKS

Fearlessly pursuing your goals and so much more…