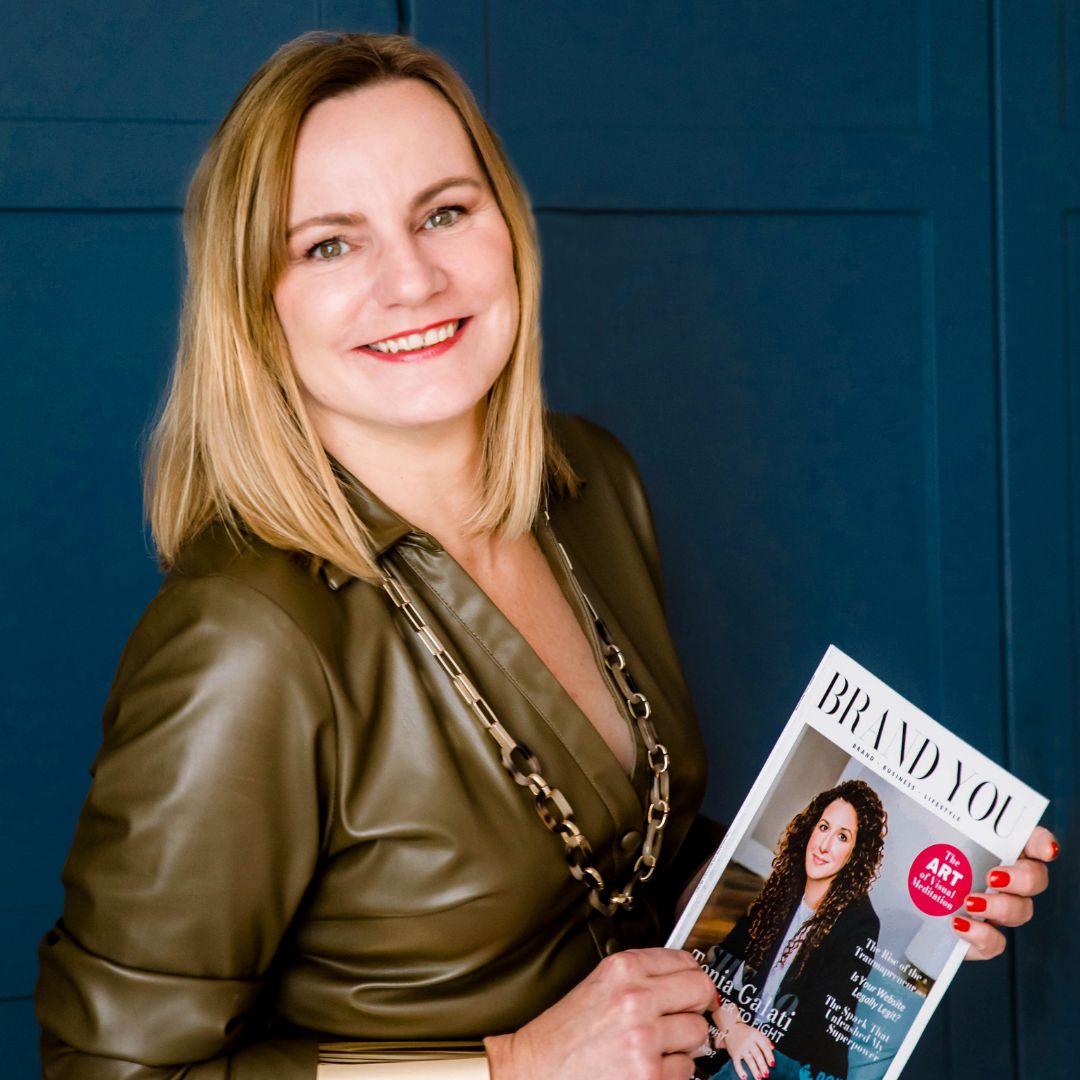 Practise What You Preach – Interview with Olivia Marocco
Brand You knows about the importance of visibility and having the confidence to show up and talk about who we are as the face of our brand. On the launch of our very first VIP signature programme: The Visibility Extravaganza, we felt it was time for our founder to take a page out of her own 'book' and lead by example. We asked Olivia what visibility means to her and to tell us how she built Brand You from the embers of a pandemic to become one of the most popular independent publications for women in business looking to make an impact.
"I've spent the last 20 years working in the business of visibility."
Visibility is a strange word as it tends to create mixed feelings. We're not totally sure what it means, but know we need it, sometimes crave it and are a little scared of it. It's no secret that people like to know who we are before they buy from us. But how 'personal' does it need to get to be visible as a personal brand? Honestly, if you're not comfortable showing the inner workings of your life story, then don't. Keep it simple and choose what moments, experiences and feelings you're happy to share to pull people in. Getting the right support and help to guide you through the process is really essential and if it's done with strategy, intention and is authentic and gets you in front of the right people, with the right message, at the right time, then showing up as you absolutely works, and it will be far less daunting.
I've spent the last 20 years working in the business of visibility. As a photographer, my job has always been to make my models shine, whether they were corporate clients, brides or businesswomen, and I was very comfortable being behind the lens. But I'm a strong believer that things happen for a reason. My life has changed. When I created Brand You, I never imagined that I would have to come out of the shadows to be the face of my own brand. It was never about me, yet here I am!
It's not an obvious thing to go from a career in photography to the creator and editor of Brand You Magazine. To understand why, let's rewind… I've been told I'm a 'free spirit', which may provide some answers as to why my personal and entrepreneurial paths have taken me on some interesting journeys. I've always been an artist at heart with a creative mind; I'm a wanderlust and a bit of a daredevil who functions much better when left to my own devices and playing by my own rules (being my own boss was almost an inevitability).

"The urgency of the situation did give me the motivation and determination to start again. I had no other choice."
I was born in France to an English mother and French father and my brother and I had an idyllic childhood in the countryside near Paris, surrounded by vast numbers of family members, friends and much-loved canine companions. My teenage years were spent in the UK; I studied art at school and after gaining a degree in interior architecture in London, I set off to discover the world. That's when my love of photography was born and I realised I had quite a talent for it. I forgot about the drawing board, returned to my native France, went freelance and built a successful career for many years as a global corporate events and lifestyle photographer based on the Côte d'Azur. I visited every continent, met the most amazing people, loved and lost, and had a lifetime of adventures. They were the most fun and wildest times… but nothing lasts forever, does it?
Nobody could have anticipated the arrival of a global pandemic. Like so many of us, from one day to the next, my whole life turned upside down. I was in my forties and working from the UK when the world changed. All my contracts were cancelled in a matter of days. It was very frightening, but the urgency of the situation did give me the motivation and determination to start again. I had no other choice.

"It's then I had a eureka moment to create a magazine."
#BrandYou2020 was born as a collaborative centre of excellence for all things relating to branding. I had already introduced personal branding into my UK portfolio, networked like mad and met online with so many people looking to keep their businesses alive. Believe it or not, our slogan was 'Stay Visible!', which was even more poignant as so many small businesses weren't yet online and just faded into oblivion.
I hosted a free Facebook page which naturally grew to focus on a female audience. Women genuinely wanted to help other women. I hosted chat shows, interviewed guest experts and invited our followers to take part in group training and conversation. I don't think anything else existed quite like it and, after the first few months, I knew I was onto something with great potential and wanted to keep going to see where it could lead me.
It's then I had a eureka moment to create a magazine as a showroom to display the incredible know-how out there and to put those women under the spotlight. I started by changing the name to Brand You to give it scope to become more than a publication, then put a strategy in place. I skilled up technically and designed a new logo and look and feel that was stylish and elegant, and persisted until I got the perfect website in place. I already knew my way around Canva quite well so that's what I used. For our covers, I chose illustrations at first to convey the overall theme of each edition – it was a year later that we began to use images of the women featured in our pages. I had a pool of excellent contacts and just asked them, "How about writing an article and let's showcase your business and share your expertise?" And they did! I can't believe how easily it all came together.
In October 2020, the first, free online issue of Brand You Magazine was distributed to test the waters. Over the next few months everyone – including our contributors, fans, followers and cheerleaders – gave the magazine a major push on social media; it caught on and created exactly the kind of buzz I was hoping for.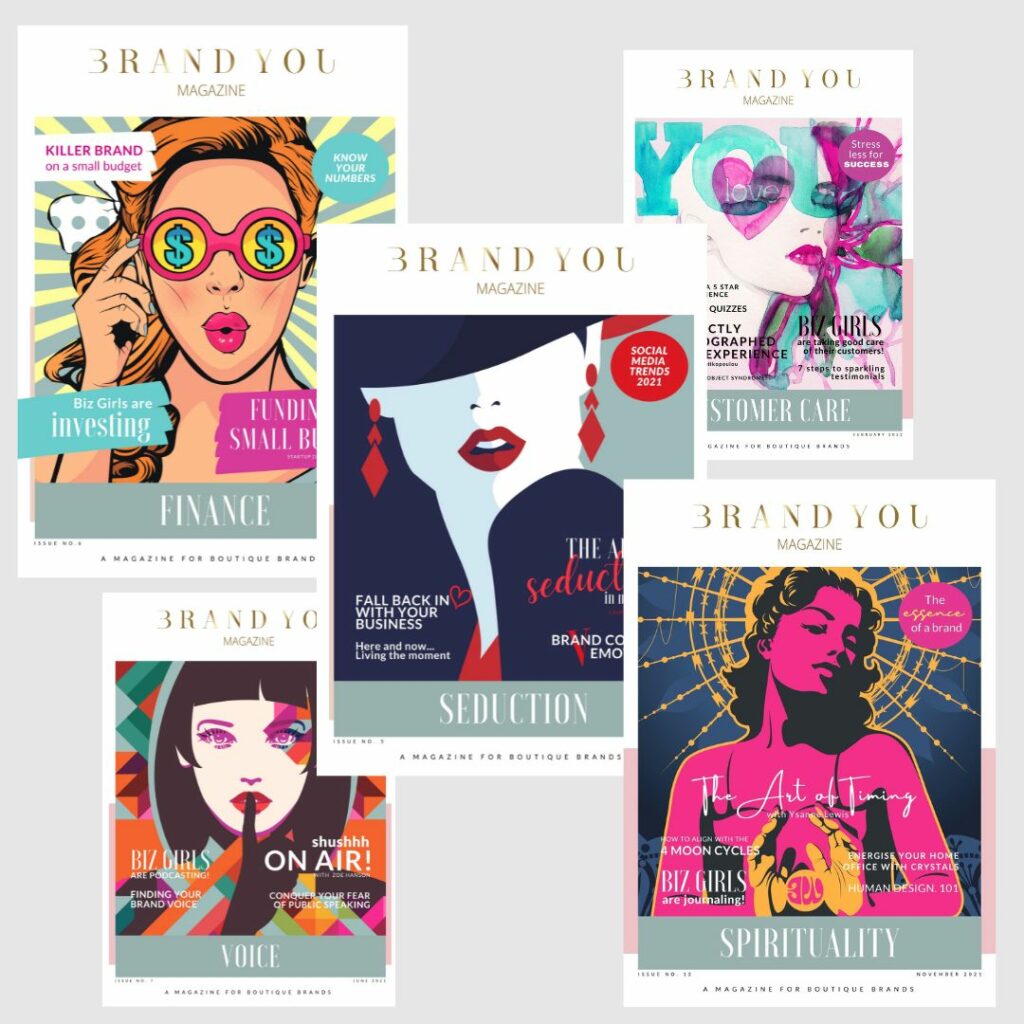 "
I'm obviously doing it right as readership numbers continue to grow

."

With Brand You's popularity growing, I then took the plunge to move to print in May 2021 and launched on my birthday as a subscription-based publication in both print and digital formats. I think we probably had about 30 people sign-up at first. That was scary but I stuck with it and continued to focus on creating something of value that readers couldn't resist, with compelling, original content on topics they cared about. For the magazine to thrive, I had to carve out a niche far removed from anything regarded as 'typical'. I'm obviously doing it right as readership numbers continue to grow – and that gives me an enormous sense of achievement and motivation to keep going.

I'm not from a publishing background and didn't know much about the industry when I started, but I tend to operate by learning on the job, and fast. However, you don't go into print media without doing your homework. I did all the research and found out that people were showing signs of digital fatigue and saturated with online stimulation where things got read and forgotten just as quickly. Although digital is preferred for reading news, print still remains the favourite way to read magazines for leisure or work; consumers love the simple pleasure of holding a physical magazine and trust content more in print than in digital format or on social media. I also realised there was a big gap in the market and a niche crying out to be filled. Business publications were far too corporate and just not relevant to small business owners and the rise of female entrepreneurship – a movement I'm part of. I simply didn't feel represented and needed to do something about it.

I believe what makes Brand You so unique and appealing is its ethos of collaboration, contribution and community. It's a place where women talk to women. They write the content. They're not professional writers or journalists, they are business owners, entrepreneurs and experts in their field who want to inspire, educate and tell their stories to an audience of their peers. I'm passionate about ensuring everyone we are in contact with feels heard, seen and valued equally, and I'm committed to making a contribution to the female empowerment narrative, here in the UK.
Brand You is just two years old, but has given me so many memorable moments already, like meeting our two wonderful Brand You Ambassadors. Hela Wozniak-Kay, the soul of Sister Snog and who played an essential part in our first year's growth. And Debbie Gilbert, who so kindly invited me on her panel of judges and to be a sponsor at the Best Businesswomen Awards 2022 and 2023. I was also named as a finalist at the Digital Women Award 2022 for best digital product; co-authored the book Shine On You Crazy Daisy, published in February 2022; and selected as an #ialso100 most inspirational business woman in 2023, as part of the Small Business Britain f:Entrepreneur campaign.

"She's innovative, exciting, bold and empowering and she's ready to push the boundaries to achieve her ambitions
."
I'm often asked the question: If Brand You was a person, what would she be like? I know her so well, she's someone who cares deeply about what's right and fair. She's trendy and elegant, caring and strong. She's innovative, exciting, bold and empowering and she's ready to push the boundaries to achieve her ambitions and to live the life she dreams of. She's also the perfect bestie and fiercely loyal, loves a good rom-com and cries at a happy ending… and I love that! Basically, she is YOU.
Sometimes I feel I've created a little monster with Brand You, because it's the endless possibilities and enormous potential for growth that I find the most daunting, and that keeps me awake at night. But one thing I've learned from the wonderful pieces written by our contributors is the importance of having the right mindset, learning how to prioritise, be patient, stay focused on the bigger picture and to trust in the process – and in myself.
"It was clearly time to set in motion the next stage of Brand You's growth plan."
My vision for Brand You has always been big, with the magazine as its beating heart. I've let it grow organically and at a speed which has allowed me to make rookie mistakes and to put systems in place which will, inevitably, help the business grow and evolve. It's just me at the moment, with help from my wonderful content editor, Pauline, and irreplaceable Pru, who provides editorial support and amazing proofreading skills. We've come a long way in just two years and have things in the pipeline to support growth and geared to enabling future projects of high value to potential investors, advertisers and readers. It's early days, but watch this space.
Ta-Da! What I can shout about here and now is the arrival of Brand You's very first signature programme: The Visibility Extravaganza, which combines the full force of brand, PR, photography and much more, with a ready-made team of the very best experts. They are fired up and ready to create immediate impact for women wanting to invest in their business and in need of help to identify their 'fame factor', get people talking about them, increase sales and make more money.
FIND OUT MORE ABOUT THE VISIBILITY EXTRAVAGANZA HERE
Imagine if, in just three months, you could learn how to shift gear and skyrocket to stardom! Start by thinking about where you are today – do you look exactly the same as you did last year, two years ago, five years ago? The point is, you should be constantly evolving, growing and changing. Life would be pretty boring if it stayed the same. Your business evolves as well and there comes a time when you need to dig that bit deeper and take another look at what you're trying to build: what it will look like in the future and if it will withstand the test of time. Is your brand still perfectly aligned with the vision? Are the building blocks solidly in place? Have you created a business that allows you to show up as your best self so you can give your best?

We all know how essential it is to gain a reputation for excellence, increase our visibility and credibility and differentiate ourselves from others. Yet, we're still reluctant to get out there and show it, and this could be for many reasons. Some prefer to focus on promoting their business brand or feel that a personal brand wouldn't add any real value. For others, it could be a matter of lack of clarity, knowledge, confidence and strategy or even knowing how to build a personal brand. That's why I created The Visibility Extravaganza. To help women like you who are ready to invest in the growth of their business by, quite literally, shifting into second gear and getting over the mental hurdle of being visible, all by themselves.
It was clearly time to set in motion the next stage of Brand You's growth plan and to show what else it was capable of doing. I'm so excited about this natural evolution of the brand because I know this programme will be utterly transformational for those who join. It's the perfect, hand-wrapped package created exclusively for Brand You by a strong team of experts who have combined the full force of their know-how and experience to do just what it says on the box.
"There's an enormous sense of pride and achievement when it all comes together and you're the talk of the town."
If I can talk the talk and come out from behind the pages of my beautiful magazine to show myself to you and be more visible, then you can show up as the face of your brand too. Practise what you preach, they say. Well, I've given you the 'what' and 'why' of my own journey, made the cover and have never seen quite so many photos of myself on display. Showing up certainly isn't easy, but I can guarantee there's an enormous sense of pride and achievement when it all comes together and you're the talk of the town!
But most importantly, when readers see me on our cover and read this article, I want them to feel excited about being part of the Brand You tribe, to absorb all its good vibes and to have confidence in its role as a trusted and knowledgeable guide to lead them on a path to success.
---
Article published in Brand You Magazine – Edition 25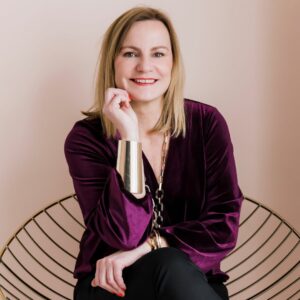 Olivia Marocco – Founder & Editor-in-Chief Brand You Magazine
Olivia is the founder of Brand You and editor-in-chief of Brand You Magazine, inspiring its readers in the creation and growth of their brands and offering a reputable media platform for female experts to raise their profiles.
Photos by: Yolande De Vries Photography
LinkedIn: Olivia Marocco
Instagram:  oliviamarocco1
Facebook: Olivia Marocco
---