 Branding By Seasons
Nature is arguably our greatest source of beauty. From it's inspiring colour combinations to contrasting textures, wildlife & the subtle energy shifts of the seasons. It can feel calming, energizing, romantic…the emotions are endless. So why not borrow this incredible resource for your visual brand identity?

What is colour psychology 
I've worked in the field of marketing & branding for 14 years, but discovering Colour Psychology just a couple of years ago felt like the stars aligning. It's such a magical yet simple method for creating your visual brand, and it's particularly useful for small businesses & freelancers. You don't even have to be creative to get it.
In many ways, 'Colour Psychology' is a bit of a misnomer, because it's about so much more than colour! It's a powerful technique for mapping multiple seasonal characteristics to your brand personality & visual identity. It's the art of blending patterns, textures, illustration, fonts, colour & photography styles to reflect the feel of each season, along with the psychological properties of colour as well (how colour can invoke emotion).I prefer to call it Branding by Seasons.
So if you follow the method, your brand will be either a Winter, Spring, Summer or Autumn personality. Your season then informs your branding style. It helps you to send out the right messages to the right people in a way that's nature-inspired & highly effective.

Elevate your brand 
Branding by Seasons has five major benefits that will help you to stand out, be recognised, remembered & set your own bar for your pricing.
Strategy led
To choose your season, you're actually 'forced' to be strategic. You have to answer the tough questions about what makes you different, who you want to attract & what they see in you.
Being strategic like this means you're much more likely to build a brand identity that stands the test of time, allows you to pivot & gives you a clear, compelling story.
A full brand identity
The difference between looking budget & looking well thought out (often more premium too), is about going deeper into a full brand identity.
Instead of just a logo, colours & a photoshoot, Branding by Seasons helps you creatively direct a full visual system,  intentionally choosing all of the supporting elements too. Elements like logo submarks, icons, patterns, textures & typography for your website & marketing. It helps you brief your photographer on location, lighting, props & even on what to wear.
A full brand identity like this also means you'll attract the work you want, but also you're well equipped with different branding elements no matter the platform or size/space for your graphics.
Congruence
So many of my students ask the question 'does it all go?'.
Branding by Seasons means you can trust it all compliments each other, because you're going to stick within your season. Have you ever looked at a landscape & wondered if it all goes together!? Nature gets it right, so you will too.
Consistency
In my corporate life, we used to test brand recognition by asking focus groups if they recognised the brand when we covered the logo.
As a small business, you'll spend a lot of time building a following, an email list & good reputation. Getting people to engage with your brand online, recognise & recommend you (and keep buying from you!). Your first 2 people become 20, 50, hundreds then thousands.
The key way to help this process along is to make it easier for them. A consistent look makes it easier to recognise when it's you & be able to recall your brand, even years down the line.
Consistent visuals also act as a trigger for what you stand for. For example, you might recognise the stripes of Toms shoes & receive a gentle mental download of their charitable ethos – even if it just tickles the back of mind!
Shortcut decisions
As a business owner, we have to make endless decisions every day. It takes a surprising amount of energy & I know sometimes I've had moments of just throwing my hands up and saying I don't know!
So anything to make this easier is going to be most welcome. By following the seasonal framework, you can make faster decisions about your brand identity, but also things like your instagram graphics, video subtitles, presentation slides etc because you can always come back to your season & check it fits.
Your copywriting is also easier, because you'll have done the strategy & know your leading messages.

The Autumn personality
Take a moment now to think about the season, the different events & goings on in nature, what feelings come up for you?
The return of slippers, boots & scarves. Schools back after summer. Pumpkins, fireworks, toasted marshmallows. Harvest, preparing for the winter. Falling leaves, nights drawing in.
This energy translates into a personality that's warm, passionate & productive. You can trust Autumn to get things done! Autumn can be fiery, has a strong sense of justice & adores anything with a story. She'll choose vintage over new, quirky over minimal & cosy nights by the fire over big nights out. Autumn is a nature lover too, so earthy, organic & authenticity are key traits for this season.

Autumn brand style
The Autumn brand style is about showing some substance & looking 'real' – you don't want a brand that looks too pristine & polished.
Think slightly wobbly lines, imperfect illustrations, fonts with character where not all the letters are an identical height. Photography that uses a warm light & might mix shots from outdoors surrounded by nature, with you curled up on a quirky armchair holding a rustic hand-thrown mug of something.
Colours 
An autumn colour palette doesn't have to be reds & oranges. You can use almost any colour, but you want a warm tone.
Colours need to feel substantial, which is usually achieved with a higher saturation. Colours tend to be on the heavy side, with a muted quality to them, so you don't see brights or pastels.
Fonts
In general, I recommend 3 fonts – body, headings and accent. These should be different to your logo font.
The fonts you choose for Autumn should have a bit of personality about them. You want something chunky or something a bit quirky – perhaps there's an interesting flick on the Q's or a wobbly handwritten look to your accent font. Legibility comes first for your body fonts as you'll have long blocks of it like your blogs or customer proposals.
Overall you want a look that's informal & interesting. What's super important is how you pair them all together, so if you have a handwritten, quirky accent font with a wide & chunky heading sans serif font, you might then choose a bookish serif body font for contrast.

Summary
Branding by seasons gives you a beautiful & powerful way to communicate who you are while gently tapping into the desires & emotions of your clients. Visual branding & design in general is about communication without words, but this method gives you some rules of thumb to simplify design choices & help you stay consistent. It's a lot of fun too!
To learn what season you are, how to choose colour & curate a seasonal brand style, take a look at my courses over at brandsandthebrave.com. You can also see more branding examples from my 1:1 portfolio at thebrandologist.co.
For more autumn inspiration take a look at my Autumn Pinterest board.[/vc_column_text]
[/vc_column][/vc_row]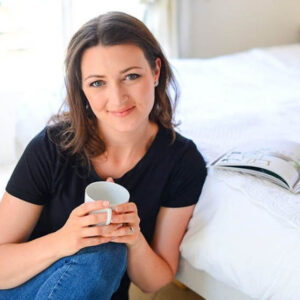 Cat Archer Underwood
Cat Archer Underwood is The Brandologist. Creative Brand Consultant specialising in solo entrepreneurs & artisan brands, I creatively direct & strategise your rebrand to help you attract more of the work you want & present your image with integrity.